When one thinks of author Sir Arthur Conan Doyle most will simply consider him the father of Sherlock Holmes, one of literature's greatest detectives, but what many don't know is that he practically birthed the dinosaur adventure genre and filmmakers like Ray Harryhausen and Steven Spielberg owe a great debt to him. Published in 1912 his novel The Lost World may not have been the first book to have man encountering dinosaurs, that honour goes to Jules Verne Journey to the Center of the Earth, but it was the film adaptation of Doyle's novel that first introduced the idea of a prehistoric beast rampaging down modern city streets.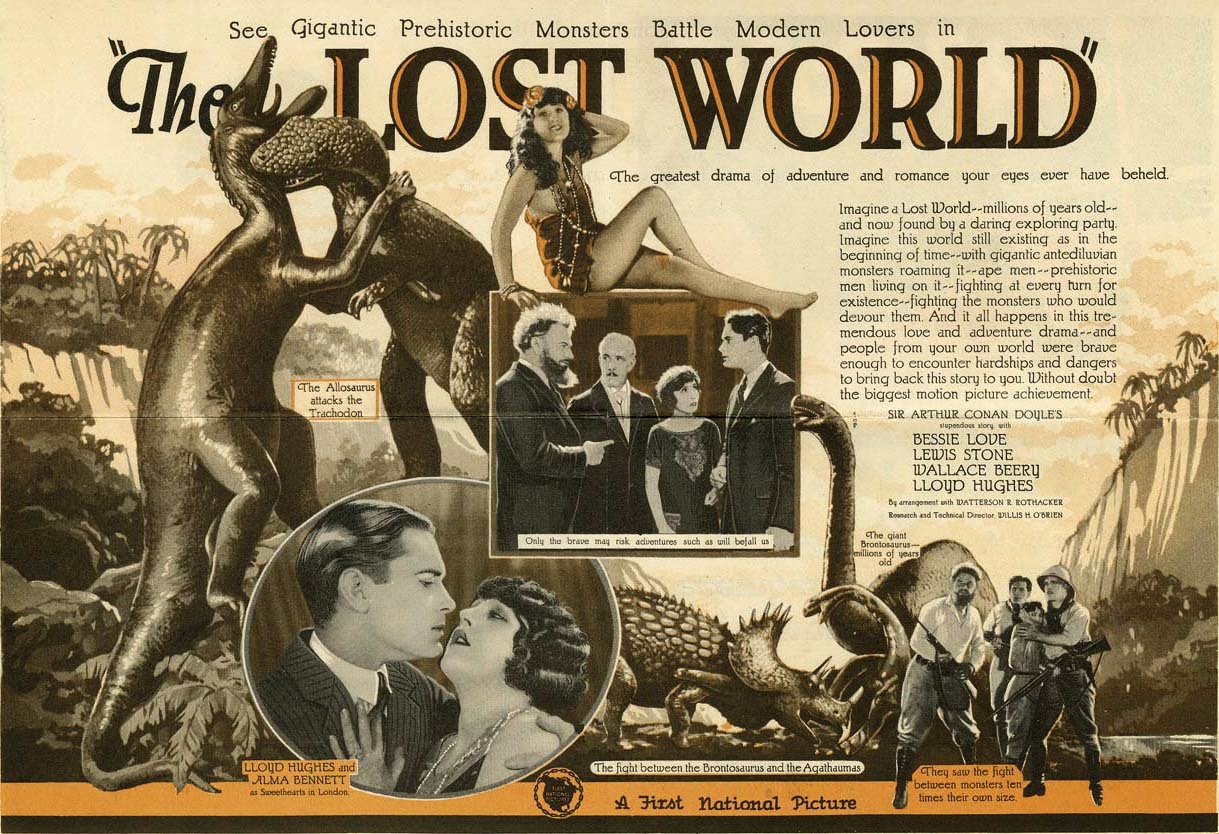 The plot of the 1925 film is a fairly faithful adaptation of the book, with some story elements trimmed due to time constraints and the limitations of the silent film medium, but the movie does toss in a love interest that wasn't in the book because, to quote Carl Denham from King Kong, "The public, bless 'em, must have a pretty face." The film opens with young newspaper reporter Edward Malone (Lloyd Hughes) learning that his fiancée Gladys (Alma Bennett) has one stipulation before tying the knot "I will only marry a man of great deeds and strange experiences, a man who can look death in the face without flinching." It's at this point that any sane man would have told the "love of his life" to go jump in the lake but our hero decides to prove himself and so he asks his editor for a dangerous assignment that could impress his girl. Lucky for him, there just so happens to be such an assignment as turns out renowned zoologist Professor Challenger (Wallace Beery) is attending a meeting at the Zoological Hall to profess his claims of dinosaurs living in a remote part of South America and he wants some brave souls to join him on an expedition.

Would you travel into uncharted jungles with this guy?
When ridiculed by both peers and students alike Challenger issues a challenge - no surprise there - that he will prove the existence of living dinosaurs, "If any of you spineless are brave enough to go back with me into the trackless jungle where these monsters live." Despite Challengers apoplectic views towards reporters, he apparently nearly killed three reporters already due to his uncontrolled animosity to the profession, he agrees to bring Edward but along with him, we get sportsman Sir John Roxton (Lewis Stone), Professor Summerlee (Arthur Hoyt) the group's resident skeptic and Paula White (Bessie Love) whose father went missing on the previous expedition to that mysterious plateau in South America and it's his journal that depicts dinosaurs alive and well atop this isolated mountain. The character of Paula White is not to be found in the novel and the idea that a group of early 20th century explorers bringing a woman along on such an expedition is quite laughable and though the movie tries to explain her involvement by mentioning that Paula was her dad's assistant it's clear her existence stems more from the filmmakers need for a proper love interest than any narrative sense.

Call me crazy, but with this kind of action, I don't need a tacked-on love interest.
What is most surprising about 1925's The Lost World is the sheer amount of dinosaur action that is brought to the screen as this particular plateau is literally littered with dozens of dinosaurs of varying species. We get an Allosaurus attacking a Trachodon and Triceratops family, a Tyrannosaurus Rex snatching a pterodactyl out of the air to then battle with a Brontosaurus before pushing that poor animal off a cliff, and then you have an amazing stampede of dinosaurs fleeing a volcanic eruption and all of this was brought to glorious life by legendary effects man Willis O'Brien who, along with sculptor Marcel Delgado would bring this prehistoric haven to life. The art of bringing these dinosaurs to life would later be perfected when the men would re-team for 1933's King Kong but what is on display here is still quite spectacular. I would love to have been in the audience back in 1925 to see the reactions people had to such amazing and groundbreaking effects, in fact, when Doyle showed test footage of O'Brien's work to the Society of American Magicians a reporter for The New York Times wrote: "If fakes, they were masterpieces." You can't get better praise than that.

Question:

Why do volcanoes always erupt when humans arrive in a lost world?

One thing that always bothered me about the Challenger Expedition is that it is never made clear as to how exactly they were intending to prove what they found, even Challenger himself questions this point when discussing the dinosaurs with Summerlee, "What will our fellow scientists say when I tell of this in London? They'll call you what you called me in London, a liar!" Now, bringing a camera along is the obvious solution to this problem yet not one single member of the party, including the newspaper reporter, thinks to bring a camera along with them. Lucky for them a Brontosaurus falls off the edge of the plateau and becomes trapped in a mud bank, which allows them to capture it and transport it back to London and provide that much-needed evidence. Now, in Arthur Conan Doyle's novel, it was pterodactyl that was brought back to the zoological society to prove Challenger's claims but as a flying reptile can't quite rampage through the city streets this was changed to the more exciting Brontosaurs for the film version, which is an idea that animator Willis O'Brien would later revisit with his 1959 film The Giant Behemoth, but that entry would provide the added bonus of it giving off lethal levels of radiation. What should be noted here is that the Brontosaurus in The Lost World is portrayed more as a confused animal rather than a rampaging monster and though it does cause a significant amount of damage it is more sympathetic than monstrous.

"None of you guys would call out bi-panes on me, right?"
What's nice about the conclusion to The Lost World is that the poor Brontosaurus isn't gunned down by the military, instead, it is allowed to escape into the river Thames to presumably either swim back to South America or take up residence in Loch Ness. Meanwhile, young Edward, upon returning home and seeing that his betrothed Gladys has married some random store clerk finds that he is now able to marry Paula. So it's happy endings all around. Now, this being a silent film it may scare some viewers away but I'd like to point out that anyone who loves dinosaurs or monster movies this is a must-see classic as not only does this film give a fantastic look at early cinema and the growth of the special effects industry it also tells a great story and Wallace Beery as Professor Challenger is simply fantastic. Overall, The Lost World was a major milestone in this history of cinema and well worth checking out, trust me, you won't be disappointed.